Stay at Home Mom:

Start Your Own Home Business!!
So many mothers today are choosing to stop work and become a stay at home mom. This is allowing so many of us to be fully in charge of raising the amazing children we have in the way we feel is right.







However it can also cause greater stress on the financial situations of our families. You go from two incomes to one. And from two people to three, then four and so on.


I believe the answer is in the 'stay at home mom' starting their own home business. What better way to care for your children yet still meet the needs of your growing family?
PART A: STARTING YOUR OWN HOME BUSINESS
WHAT IT INVOLVES
Do What You Love - Starting your own home business involves you using what you like or are good at and learning how to market that so that other people want to buy or use your services. The best place to do this I believe is on the internet. This way you don't have to spend money on a premises and can reach thousands more people than you would if you set up only in your home town.

No Internet Experience - You won't need to have previous internet experience because there are plenty of places that can do the set up for you. Better still, get yourself a copy of this FREE Masters Course for Work at Home Moms! specially designed for stay at home moms wanting to work at home. The second option is what I would recommend because the main reason you are doing this is so you can make money and not have to spend lots of money on getting your business started!
Be Prepared for a Small Financial Outlay - Starting your own home business will involve some financial outlay. If you are serious about building a profitable business that lasts a long time then don't fall for the cheap website building options that many companies offer. The two things I have noticed is that
1. Firstly, you end with a website and no visitors so you make no money. You then end up spending more money on advertising to try and promote your site and draw in visitors.
2. The second thing I have noticed is that cheap website servers and companies are not very secure servers. This means that it is easy for people to hack into your site and plant virus' making it hard for people to visit your site. Other viruses allow advertising you haven't allowed to pop up to your visitor before they see your site. Often the advertising can be of pornographic material. So please don't get distracted by the cheaper options.
The company I use and can highly recommend is Site Build It!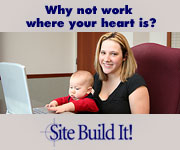 They have a very secure and reputable server, their monthly fees are affordable compared with the fees that other top web builders and servers use yet the services that Site Build It offer outrank every other company I have investigated.


Here is a Comparison Table of Site Build It, Yahoo! Web Hosting Pro, Verisign Web Business Expert and Microsoft bCentral Professional. The difference is striking.
And all of the extra's are free with Site Build It where as other companies charge you for every extra you want to add. Some of these extra's include:
- Site Preparation Tools that help you choose the right theme for your website that is also highly profitable
- Domain name registration
- Web site hosting
- Block-by-block web site creation tools
- Page and Graphic managers
- Auto and Regular Blogging
- Traffic building systems (no signing up to traffic generators and clicking on hundreds of sites every day!)
- Search Engine Pinging, Tracking and Ranking
- Newsletter publishing
- Autoresponders
- Multiple Email addresses
- Tools to help you choose the best way to make money from your site, including adsense
…and so much more that I wouldn't be able to explain here. For a complete list of all the Tools SBI has to offer click here. I can't recommend it enough.
If you check out their site for yourself and think you can get a better deal by working through another company or getting each service separately then let me know. I am yet to find a better company and you actually produce a website that is also your business that will continue to grow and not die and become another statistic!

YOUR TIME COMMITTMENT
This is totally up to. Obviously you can't do it full time because that is what you have chosen to do with your children. But rest time and evenings are great for doing a bit of work on your website, working through the next bit of training on how to expand your business or doing whatever it is that will make your home business work.

OPPORTUNITIES AVAILABLE
These are limitless. You can start your business in any area you like. Craft, kids, gardening. The best idea is to choose something you are passionate about and know a little bit about. You are going to be doing a lot of research and writing about that topic so you want to be able to enjoy your work. Imagine being able to get paid for running a business in the area of your passion!
Check out this video of a Work At Home Mum who has made her passion into a home business...


What will you need to do next?
PART B: GETTING ORGANIZED AS A WORK AT HOME MOM will prepare you for the next step of starting your own home business.
The only downside to running my own home business as a stay at home mom is that I love working so much I have to be careful I still give my children the time they need!!
But what a good problem to have! All the best all you future working moms. When you have your business up and going I'd love to check it out so let me know!
---